OK - some background
I have been recently selling a lot of odd bits of silver i have collected over the years - things like forks, spoons, watch cases, ash-trays etc. that i have got from car boot sales, auctions etc.
The recent relative high pos has tempted me to offload some of this 'scrap'. Interestingly, some of it I was actually selling as antique/collectable, such as spoon sets with C19th. hallmarks etc. in excellent condition; however, this stuff was all bought by someone for the sole purpose of melting down! What does that tell you? (collect antique silver items maybe!!!)
Anyway, I have been tempted to have a go at melting .925 myself with a view to producing .925 bars: It doesn't matter to me that they will have no assay marks, because as far as i am concerned there are easy enough ways to determine (roughly) silver content especially with colourmetric acids. Also, when (if) I do come to sell, I appreciate that there will be a 'mark-down' of sorts.
So, where am i with this? well, I have done some research on melting and pouring (see
http://chestofbooks.com/crafts/mechanics/Cyclopaedia/Melting-Silver-In-An-Open-Fire.html
)
This section is from the book "Cassell's Cyclopaedia Of Mechanics", by Paul N. Hasluck. Also available from Amazon: Cassell's Cyclopaedia Of Mechanics.
Melting Silver In An Open Fire

Procure a small fireclay crucible in which to melt the silver. For a flux use equal quantities of finely powdered charcoal and sal-ammoniac. Make up a large, bright coal fire in an open grate, and when the fire is quite clear break a, hollow space in the centre. In this space place the crucible, and allow it to get red hot; then put in the silver, and draw some of the hot coals closely around and over it. Blow the fire with the bellows until the crucible gets white hot, when the silver will melt, the fusing point being at 1873° P. (1022-7° C). Then add the flux to clear the surface from scum. Again make the crucible hot, and quickly pour the contents into an iron ingot mould previously made scalding hot. One or two ounces of silver may be melted at a time in this way. The flux may be stirred with a pointed rod of iron previously made red hot.

I have already bought a crucible, cast, and tongs, and i am currently researching a suitable flux.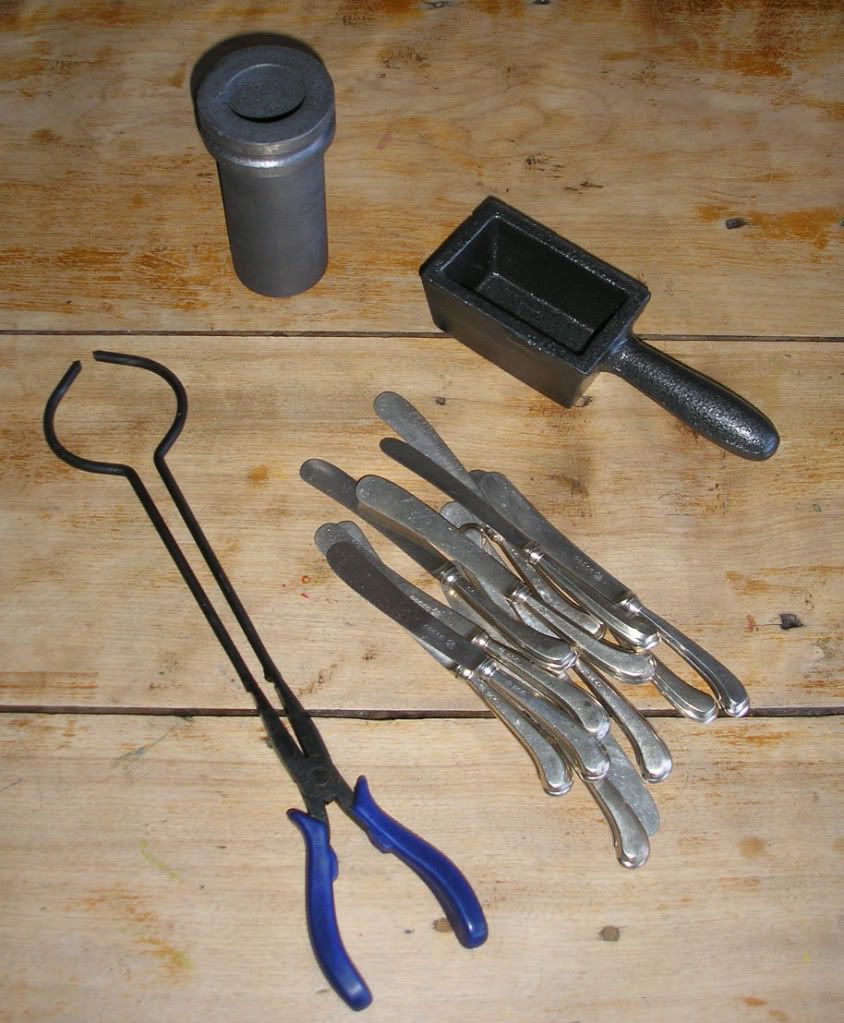 I have a good size open fire with a large cast iron grate which i will be burning coal (doubles) in and i am able to blow air under the grate (please note - I have no draft system on this so - it is pretty open all the way up to the chimney stack)
I will let you know how i get on and am welcome to tip, suggestions etc. esp. wrt a suitable lux